Chalkboards: it's not just for the classroom anymore! Chalkboard paint can make for a fun, easy, customizable, and cheap DIY project, but if you're renting, odds are good that you can't just roll chalkboard paint all over a wall. (If you're allowed, go for it!) But that doesn't mean that chalkboard paint is off limits for you, because there are lots of other fun ways to incorporate it into your home. Check out these apartment friendly chalkboard paint ideas:
1. Paint a Dresser.
If you can't paint your walls, try chalkboard paint on an old piece of furniture. You can paint the whole thing with chalkboard paint if you like, or just the drawers and sides like this piece.
via Shelterness
You could write a grown-up quote, label drawers for storage, or just give your kids some chalk and let them go crazy.
2. Make a Menu Board Out of an Old, Ugly Framed Print.
You can apply chalkboard spray paint to regular glass and it magically turns into a chalkboard.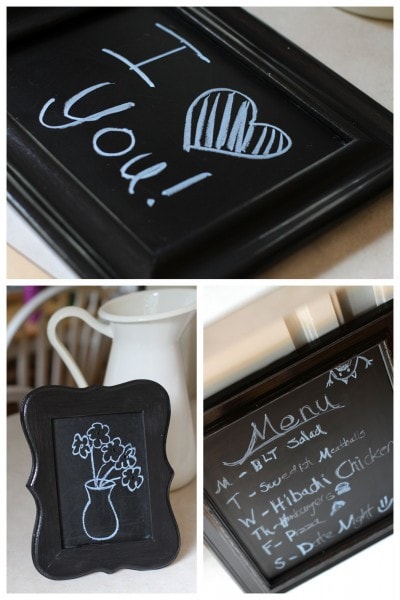 touchevia The Frugal Girl
You could do this with a new frame, but to keep this inexpensive, visit a thrift shop and pick an old framed print. You'll be covering the print up, so just make sure the frame itself has nice lines and don't worry about the print itself. Remove the glass from the frame, and give it several thin coats of chalkboard spray paint. Then, if the frame has a dated finish, scuff it up, paint it, let it dry, and then put the painted glass back into the frame.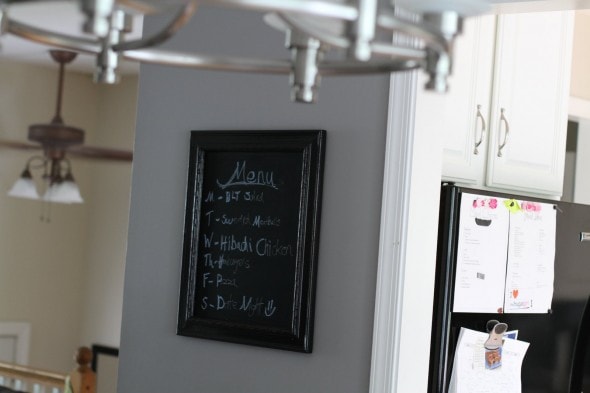 3. Paint a Serving Tray
If you have an old tray, spruce it up with some chalkboard paint (just tape off the areas you don't want to paint.)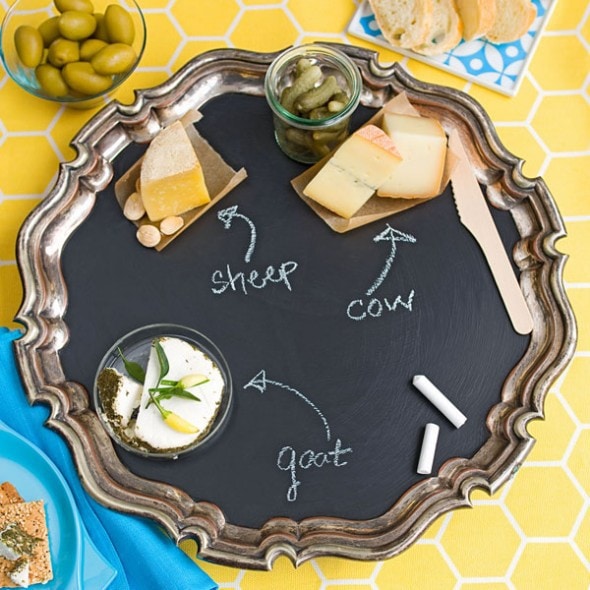 If you don't already have an old tray, check your thrift store, which is just about guaranteed to have a tray or two.
4. Paint Wine Bottles
Use Goo Gone to remove the label and sticky residue, and then paint the bottles. Chalkboard spray paint would be the easiest to use for this project, but you could also use the brush-on type.
via Nook and Sea
The bottles make sleek vases, place-markers, or mantel decorations. For more visual interest, paint bottles of varying heights and group them together.
5. Chalkboard "Bricks" Around a Fireplace
This doesn't exactly involve chalkboard paint, but it's such a great idea for renters, it had to be included. The Nester wanted to dress up her rental fireplace, so she put peel and stick chalkboard vinyl around it and used chalk ink to draw on quirky, imperfect bricks.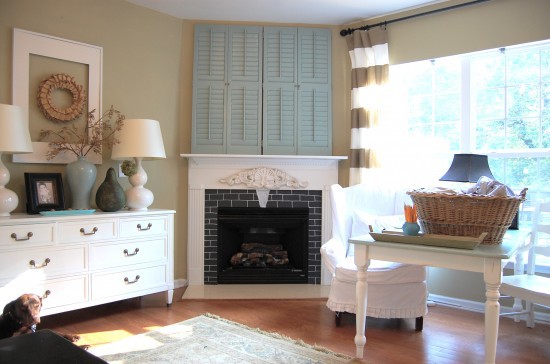 via The Nester
Of course, since vinyl chalkboard is removable, you could use this in numerous places in your rental.
Bonus tip: No matter which chalkboard paint ideas you choose to go with, buy some chalk markers when you're ready to write on your finished product. Chalk markers are so much easier to use than regular chalk, and they'll make your artwork and lettering clearer and brighter.
Feeling inspired? Go grab a can of chalkboard and personalize your home!
Pin this post: